Fukufuku Shimaenaga Bird LMC
Round and fluffy! "Snow Fairy" is their nickname in Japan because of their movements.
Plush is round, about 10 cm and the wings can be patted up and down too! So cute ★ All birds are come with color ball chain.
All imported from Japan directly!
What is Shima enaga?
This gorgeous fluffy bird is a type of long-tailed tit that can only be found on Hokkaido Island. Similar northern long-tailed tits live throughout Japan, although they have brown 'eyebrows,' while the Shima-Enaga has a uniquely all-white face. 😘
Style & Size :
H10.0 cm × W10.0 cm × D11.0 cm
A: Shima-chan
B: Shima-chan red Fruit
C: Shimahiko
D: Chiyunsuke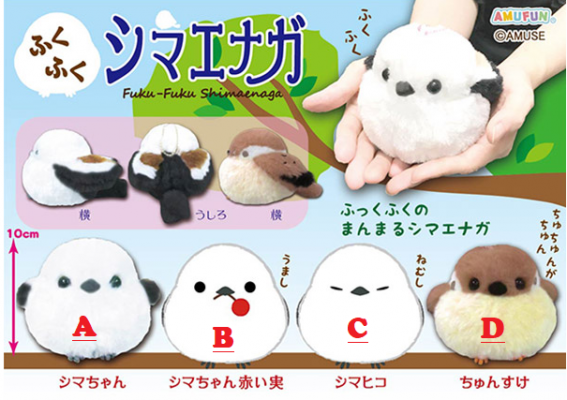 [NOTE]
You are Pre-Ordering this item.
Item will be available in Mid August
We'll begin to ship your orders at the end of Aug.
Depending on where you live and the Customs, receiving date may be extended.